Soldier Counseling Resources
Sample Developmental Counseling Form (DA Form 4856) examples, Counseling Preparation, Soldier Counseling Tips and Techniques, and Army Leadership, FM 6-22 guidance.
---
It is an absolute requirement that leaders regularly counsel their Soldiers.
The leader who neglects to counsel his subordinates is negligent in his performance of duty.
FM 22-100 June 1985
---
Welcome to my Soldier Counseling resource pages. The purpose of these pages is to provide information to help Army leaders properly counsel and evaluate their subordinate Soldiers. Within these pages you will find tips on conducting effective Soldier counseling utilizing the Developmental Counseling Form (DA FORM 4856). In addition, you will find a wide range of sample Soldier counseling scenarios and sample Developmental Counseling Forms to help Army leaders simplify the counseling process.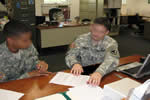 Photo Credit: SSG T. Isakson
Courtesy of U.S. Army
Counseling Examples
Sample Developmental Counseling Forms (DA FORM 4856) covering a wide range of situations and scenarios.